Keep scrolling down this page to view our available dogs, puppies, cats & kittens.
Dogs and cats are being euthanized almost every day in shelters in Kern County.  Why go to a breeder, when you can save the life of a dog or cat by adopting one?
Our adoption days are most Saturdays (weather permitting) from 11AM to 3PM in the parking lot of Radio Shack, located on the corner of Tucker Road and Valley Blvd.  On the first Saturday of every month the adoption days are held at Tractor Supply on Mill St. right next to the 58 freeway. Only the dogs will be at the adoption days. You can arrange to meet the cats/kittens with their foster mom or dad.
All rescued dogs and cats are placed in foster homes until permanent, loving homes are found. The animals are vaccinated, spayed or neutered, microchipped, and given any necessary medical treatment during this time period.
If you see a rescue dog or cat that you are interested in adopting in a newspaper, on our web site or at  http://www.petfinder.com/pet-search?shelterid=CA127 the process is as follows:
Step 1: The Application
Each prospective owner fills out an adoption application. Contact us at (661) 823-0699 and we will send you an application.
Step 2: The Meeting
Once your application is approved, an appointment can be made for you to meet the rescue animal. At the appointment, an adoption volunteer from the Tehachapi Humane Society will help you assess whether the rescue animal is a good match for your lifestyle and your family. The volunteer can also answer any questions you may have about the adoption process.
Step 3: The Adoption
Before you bring your new pet home, you must sign a contractual agreement with the Tehachapi Humane Society. In addition, an adoption fee is requested.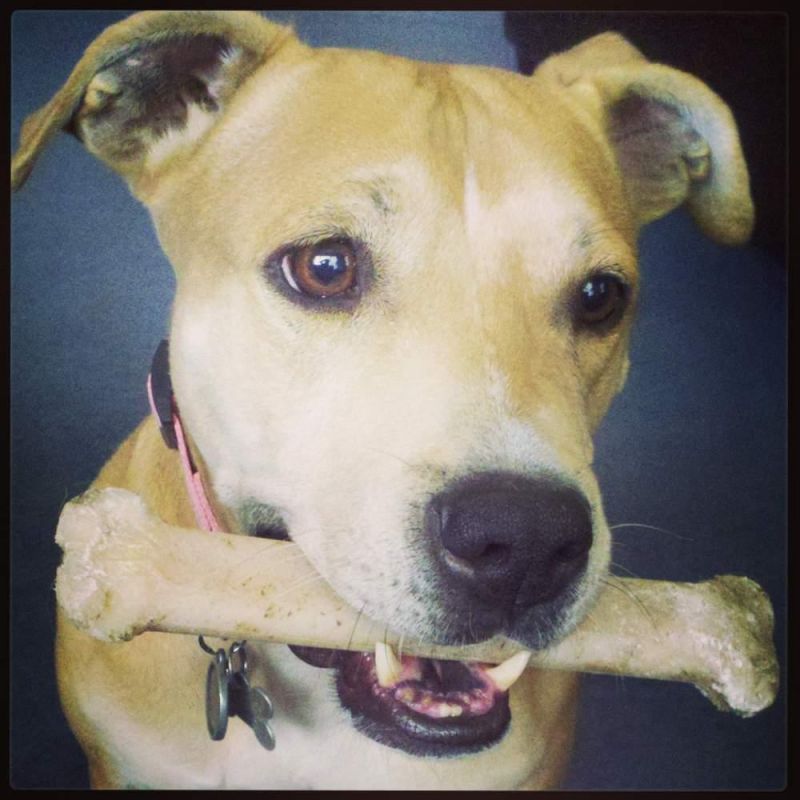 Butterscotch
Hello, I'm Butterscotch! My humans rescued me 6 yrs. ago, and I have been well loved and cared for. Sadly they recently had to move far away so I am looking for a new person or family to love me the way they did. I had a scary experience with fireworks, two years ago on the 4th of July. Since then I have suffered from "separation anxiety" and will probably need to take medication for the rest of my life when I am left alone. I'm embarrassed to admit it, but I don't like to be alone sooo, I really need to be with people who are home most of the time, or even be willing to take me when they go. I get along well with other dogs and cats, and children. I love to run and play fetch, and I hate to brag, but I'm a pretty good watchdog too! I was told that I am a Boxer mix (but only a little bigger than a Cocker spaneil so who knows), spayed, & current with my rabies shot. I promise to be an excellent companion and love you back! I am currently in a temporary foster home in Mojave (661) 824-0500.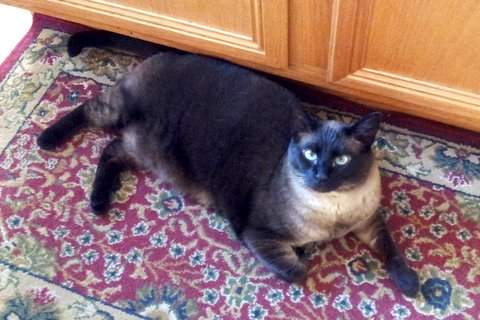 About Savannah
SAVANNAH: Spayed Female, Siamese Mix, 6 to 7 years of age. Savannah is a very dark, Siamese, Chocolate Point mix, who is a very plump, sociable kitty. She is well mannered and really likes children:! She is not very accepting of other cats and we have had no experience with her and dogs. This little girl was abandoned by her owners and found in a school yard. She, very much, would like to find a good, forever, home of her very own. Please give us a call if you think this girl would fit into your lifestyle. She is current on booster shots and is ready to go at any time. Contact her foster: Amy Webster, email is adictionary@outlook.com, phone number is 661 823-4299.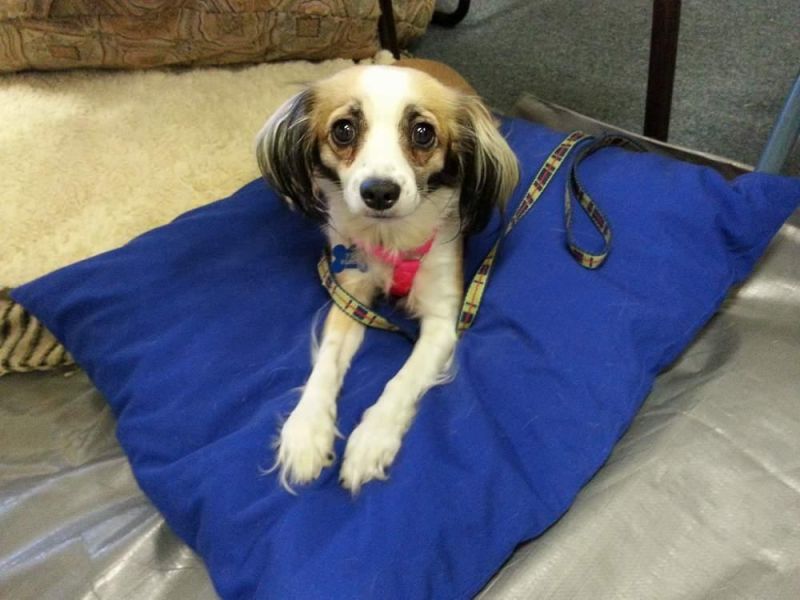 Sugar
Papillon & Spaniel Mix • Young • Female • Small,  House trained • Spayed/Neutered • Shots Current